5 Party Boat Renting Mistakes and How to Avoid Them
A tour we think you'll love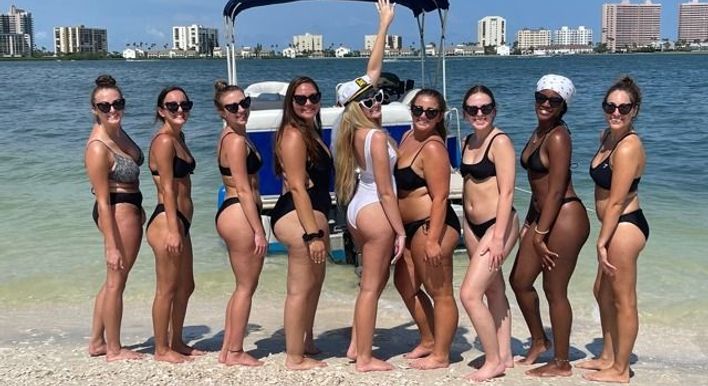 Clearwater Party Boat
From $800
View tour
Finding the right boat to rent for a special occasion requires knowing what not to do. Here are common party boat renting mistakes and how to avoid them.
Keyword(s): party boat renting mistakes
Party boats are a bucket list occasion for many. The venture offers you the chance to dive into the sea, admire the scenery, and indulge in the party vibe all at once. That's why experts predict the boat rental market to reach $4.08 billion by 2028!
If you plan and prepare, your day on the open water will be an unforgettable experience. If not, your day can be memorable for the wrong reasons.
Fortunately, you've come to the right place.
Below are the most common party boat renting mistakes and how to avoid them!
1. Boat Party Destination
Being on the party boat is the main course for your special occasion. But a few other ingredients can make or break your day out. One of those crucial ingredients is the location of your trip from land to sea.
If you want to continue the party throughout the night, there's no point in renting a boat in the middle of nowhere. Pick a bustling city with vibrant nightlife so your friends can continue celebrating.
Clearwater has all the above, year-round warm weather, and clear waters. That will put the cherry on the sundae.
2. Comparing Boat Party Costs
It's as simple as clicking on a boat rental company's website and checking the price of a boat party. Yet, you must dive deeper to uncover the hidden costs and the best-value offer.
Some of the factors to acknowledge are the following:
Duration of trip

Price per person

Discounts on groups

Food and drinks

Insurance

Facilities such as speakers and coolers
Don't blindly book the cheapest choice. Otherwise, you could spend more of your hard-earned cash during the day.
3. Not Paying Attention to Safety
It's a special occasion meant for fun and excitement. Therefore, you'll be forgiven if safety isn't on your mind.
However, safety should always be a priority. And once you pay attention to the safety features before you set off, you can put it out of your mind and enjoy the party.
Listen to your captain and learn where the fire extinguisher, life vest, and first aid kit are located. Chances are you will never need those items, but it's good to have peace of mind.
4. Different Options for Party Boats
You won't choose a low sports car if you want a day of off-roading, BBQing, and fishing. You pick a vehicle suited to the activities you want to take part in that day.
The same goes for renting party boats.
Renting a pontoon boat is smaller and slower, but they're ideal if your focus is swimming and relaxing. If you want to have fun while exercising, you can rent our cycle boats and make new friends.
Decide what you want out of the day and research the options for party boats before renting one.
5. Understanding the Terms and Conditions
Not understanding the terms and conditions can leave a sour taste in your mouth at the end of the trip. And all you need to do to avoid it is read the conditions or ask the owner questions.
Are you allowed to bring food and drinks? How many people can come on board? Can you go swimming?
These are all the questions you need to know before you set off.
Avoid Party Boat Renting Mistakes
Everyone should be able to celebrate special occasions in their lifetime. Enjoy a thrilling day surrounded by friends and family while taking a break from the stresses of life.
If you follow our guide and avoid party boat renting mistakes, you'll have an unforgettable experience.
Now you know how to make the most of your venture. So check out our tours today to uncover the best deals and party boats for you!