Did you know that the typical Vegas bachelor party has over 45% of attendees doing something they'd regret?
A tour we think you'll love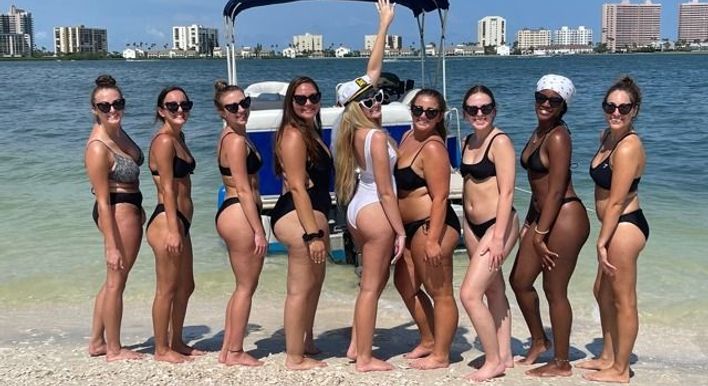 Clearwater Party Boat
From $800
View tour
Most bachelor parties are repeats of previous ones. So you might be thinking of following this pattern as well. But you can avoid all of that stress with one simple and fun alternative: a boat party!
Wanting to make your bachelor party unique and unforgettable should be non-negotiable, and an epic boat party is the best way to go. It's the perfect venue for your big night out.
Let's dive right in!
1) More Intimate
There are many reasons why renting a boat would be one of the best bachelor party ideas.
It's unique, exciting, and undeniably fun. Compiled below is a list of reasons why you should have your bachelor party on a boat. At the end of it, you will understand why renting a boat as your venue is the best decision to make.
Is partying not your typical scene? Or perhaps, you prefer a more intimate celebration with your closest friends? If that is the case, renting out a boat for your bachelor party is the perfect solution.
Besides the fact that you can pick and choose your party members, you are also surrounded by nothing but water. With no other people around your boat or at least near it, you can celebrate in a more personal and private way.
2) Drink as Much as You Want To
There are no alcohol restrictions when renting out a boat, especially with Clear Water Party Boats. This means you can bring as much alcohol as you would like – whether it be beer, champagne, wine, or liquor.
All the boats come with coolers where you are more than welcome to store your alcohol. We encourage it. Feel free to drink as much or as little as you want to. How you want to enjoy your bachelor party is entirely up to you!
3) Filled With Activities
If you want to maximize the boat experience, then there are plenty of activities to do. You can stay and cruise on the boat. Possibly, jam to music by connecting to the boat's Bluetooth sound system. You can also just relax, drink, and enjoy the company of your closest buddies.
If that's not your style, you can also do outdoor activities. You can hit the beach, dock at a lakeside restaurant, or indulge in some water activities. Whatever it is, there are no limitations to what you can do. You can cater it to your preferences.
4) No Limitations
Another reason why you should rent a boat for your bachelor party is that you can venture off to wherever you want to go. If you are in Clearwater, you can visit One Tree Island, 3 Rooker Island, Anclote Preserve, Hurricane Pass, and so much more.
You aren't limited to one place either. If you are feeling adventurous and want to go hit a couple of places for your bachelor party, then you are more than welcome to. The day is for yours to dictate.
5) Worry-Free Environment
As of right now, you've probably been planning your wedding for months. Most likely, your last few months have been full of stress and worry. A feeling that you don't want to feel at your bachelor party. Depending on what you decide to do, you might want to have a drink or two and so do your friends. The last thing you would want to do is to worry about who is driving.
By having a bachelor party on a boat, you don't have to worry about who will be the 'designated driver.' Your private boat party will have a 'captain' that will ensure everything gets taken care of. All you need to do is to sit back, relax and have the best time.
6) Beautiful Scenery
Some of the best scenery you can experience is from a boat. Imagine this; you are cruising out in the open water. Depending on the time, you may be close to catching the sunset. With a drink in your hand, you look at the open water and can see the reflection of the skies. It's serene and peaceful. There won't be any loud noises around.
The scenery you see on the boat is unlike any other. It's a great backdrop for taking pictures and capturing moments in this once-in-a-lifetime experience.
7) One of a Kind Experience
Last but not least, you will have the utmost privacy in a boat.
You are only surrounded by people who you know – your best mates. You can be as loud as you want as there is no one around you to disturb your event. The day is for you to wholly enjoy.
On top of that, having a bachelor party on a boat is not an experience everyone can say they have had.
Top Tips for Planning a Boat Party:
There are a few things you need to consider when you want to plan the best bachelor party for your best friend.
1) The Right Boat Party Destination
When it comes to having a great boat party, location is key. You don't want to head off far and hit the open water if there isn't anything fun to do around you. For example, if you are in Clearwater, don't take it out into the Gulf of Mexico without stopping somewhere.
2) The Right Boat Party Size
Just like any other party, don't invite too many people. Having a large group means more expenses and less freedom. It's best to start with around 10-12 men.
3) The Right Boat Party Time
This is especially important if you want to do outdoor activities. Make sure the time of year lines up with what you want to do. For example, during winter in Clearwater, the water is too cold for swimming, and the beaches are empty.
Celebrating Your Bachelor Party
Bachelor parties usually only happen once in your life, which is all the more reason to go all out and opt for a memorable experience. By renting a boat for your celebration, you will be getting more than what you have bargained for.
By now, you might think that renting a boat for your bachelor party is the best option for you. If you are traveling to Clearwater Beach or celebrating within the vicinity, then contact Clearwater Party Boats. We will answer any questions you have and help you plan with ease.
It's your day of celebration, after all, and you deserve the best!