Set sail for the ultimate aquatic adventure as we dive into the world of boat parties, where the waves are your dance floor, and the horizon is your backdrop. Get ready to elevate your celebration game with the best themes for boat parties that will turn your nautical soiree into an unforgettable voyage.
Let's go through the top themes for boat parties.
A tour we think you'll love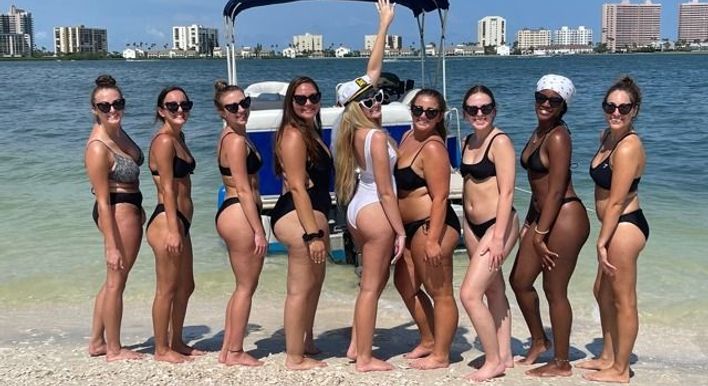 Clearwater Party Boat
From $800
View tour
1. Nautical Chic
When you're looking at sophisticated and timeless birthday party themes for your next boat party, embrace nautical chic. Decorate the boat with classic navy and white hues, adorned with anchor motifs and subtle maritime details.
Consider incorporating elements like lifebuoys, ship wheels, and sailor knots to enhance the nautical ambiance. Create a dress code that encourages guests to channel their inner seafarer with stripes, boat shoes, and captain hats.
This theme not only exudes elegance for an unforgettable birthday party, but also captures the essence of a refined sailing experience.
2. Pirate Adventure
A pirate-themed adventure is another top choice when it comes to boat party theme ideas, transforming the vessel into a seafaring haven of excitement and camaraderie. Attendees can don their finest pirate attire, complete with eye patches, tricorn hats, and billowing shirts.
Have a "Captain's Log" guestbook where guests can leave messages, draw pirate doodles, or share their favorite pirate sayings. It'll be a fun keepsake to remember the event.
Serve pirate-inspired food, such as "shipwrecked" seafood platters, "cannonball" meatballs, and "treasure chest" dessert platters. Get creative with the names and presentation.
End your boat party with a splash by organizing a fireworks display. Just make sure you're staying safe when you're partying on a boat with fireworks!
3. 80s Miami Vice
Miami Vice is a great Florida-specific theme you might want to use when you're planning a boat party.
Deck out your boat with neon lights, pastel-colored streamers, and palm tree decorations. Recreate the vibrant and stylish atmosphere of 80s Miami.
Set up a bar featuring classic 80s cocktails. Pina Coladas, Sex on the Beach, and of course, the iconic Tequila Sunrise are great choices. Serve them in neon-colored cups for that extra flair.
Compile a killer playlist featuring the best hits from the 80s. Think synth-pop, new wave, and the iconic tunes from the Miami Vice TV series. Don't forget classics like "Take On Me" by A-ha and "Billie Jean" by Michael Jackson.
4. Toga Party
If you're planning a boat bachelorette party, you might want to consider a toga party theme. Encourage guests to wear toga-style outfits with sea-inspired accessories like seashell necklaces, tridents, and seaweed crowns.
Organize games inspired by Greek mythology. You can have a "Poseidon's Trident Toss" or a "Medusa Limbo" to keep the party spirit alive.
As a boat party host, hold a toga parade where guests can showcase their creative ensembles. Offer prizes for the best, most creative, or funniest toga outfits to add an element of friendly competition.
Try Out These Themes for Boat Parties Today
There are so many different themes for boat parties you might want to consider. Hopefully, you now have some inspiration to start planning.
Are you ready to start planning your next boat party? Clearwater Party Boats has got you covered. We're the most flexible company in Clearwater, able to customize your experience based on your needs.
Book with us today.