Are you preparing to throw an exceptional party? How about considering a birthday boat party? The reason boat parties are well-known is that it is a lifetime adventure jammed in several hours.
You have to whoop it up against the clock, and needless to say, your party can wind up being an epic fail with no plan. Having said that, you have to follow a few tips for a memorable boat party. Read on to discover more.
A tour we think you'll love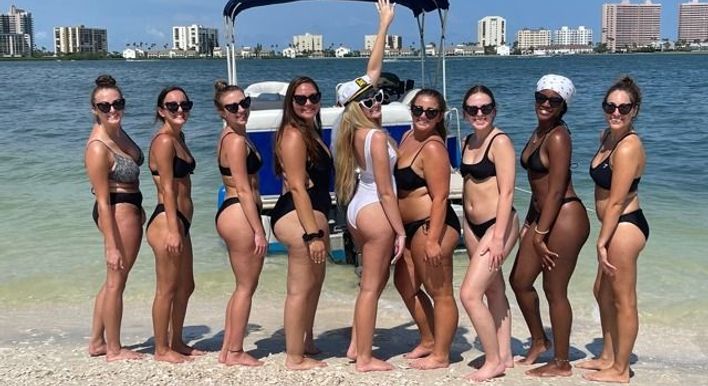 Clearwater Party Boat
From $800
View tour
1. Estimate a Budget
Before picking when and where you want to hold your birthday party on a boat, you must plan a budget. Whether you charter a fishing boat or a first-class yacht, make sure it's within the budget. It is great to have fun but be practical with your budget as you can't have a cruising yacht with fishing boat funds.
2. Set Up a Guestlist
List down all the people you like to appear at the boat party for your birthday and ensure they'll be able to show up. It will be a loss to order food and drinks for guests only for them not to pull through. Take note to write essential items on every guest due to sensitivities or food choices.
Assure that the guests you invite do not fill up your boat party, or you will wind up with a crowded party.
3. Restrict Extra Things and Decorations
Get an interior designer to determine what to use for a birthday boat party and what decor you need. You can check for inspiration on media platforms such as Instagram and YouTube. Ensure to select colors that combine well to prevent having a shabby look decor.
All boats are well-kept and decor-oriented, but appearances may vary. Most boats sustain a contemporary and sophisticated style.
It's best to limit decors to make the boat easier to board and debark. Remember that preparing an event on a boat is contrary to land venues, so it's helpful to have it simple. However, keep in mind the decorations are only a small part of the equation.
You don't need to go all out when designing the boat for a celebration. Opt for minimal and easy-to-clean accessories and prioritize the experience itself.
4. Give Out Invites
Invite your favored visitors to your party early on, and don't wait until the last moment. Provide your guests an early head start.
This helps your guests save up for the event and prepare something to wear for the day. Give the invites a month early, so don't send them through snail mail regardless of how elegant the card is. You can send an invite through email or even shoot a direct or group message.
5. Choose What to Serve
While planning your birthday boat party, consider serving foods that don't need cutlery. Converge with caterers who have a background catering a boat party and test their meals. Only select the best, pick a caterer that provides bartending and waitressing services.
Considering you want somebody to serve your guests as you mingle with other visitors. In this matter, it would be reasonable to ask for tips and read past clients' reviews.
6. Yacht Hunt
Depending on your funds, research boat choices online to estimate how your rent should cost. Look for sites with data on partying at a boat to get more insight on hiring yachts for events. Make a listing of all boat rentals in your area and see if they have a boat ready on the date you need to throw your party.
It can be a waste of time to carry on and learn you cannot arrange a boat if you need to. After you have decided your dates, guests, and what you need at your party, that's the tricky part. All you should do is give your party requirements and requests to the boat owner.
Let them confirm what you want, and they will get in touch by what they can offer to meet your demands.
7. Arrange the Layout
Your next move is to go and see the boat and hold a meeting with the firm you are renting the boat. It is an excellent chance to drop some tips on what you'd fancy at your party, as well as personalizing the yacht. The boats are majestic in themselves, but there are amounts of space to get that boat to appear as your own.
After choosing a boat and paying a deposit, plan the layout for the food station, dancing, drinks, and seating. It will guarantee that there is a great movement of traffic. Ensure you set the design so that people don't bump in each other or walk on the dance floor to refill their glasses.
8. Plan a Program
Not sure how to plan a boat party? Have a system for the bid day. Decide what time the birthday boat party will begin.
Write down if there will be a performance, presentation, or a toast. Setting up a schedule will help you ensure that everything goes according to plan. It also helps you avoid awkward pauses or stagnant breaks during the event.
Once you determine what sort of party you hope to have, plan to ensure you start on time to savor your money's value. You can show up to your boat party without worry and focus on making some memories.
Tips for Planning a Birthday Boat Party
If you learned these tips are easy and believe you would enjoy a fantastic party, reserve your next event with Clear Water Party Boats. These deluxe boats are completely ready to a top tier, with decor that will fit any party's demands. Either you want an intimate party or a big blow-out event; we can give you a corresponding boat.
Every party can be custom-made to your needs to provide it a personal feel. If you want help with some preparation, one of our party experts will be available to lead you over every step to have everything you want. Check out our page and contact us today to begin planning your birthday boat party!