You made it to Clearwater! Time to party!
Clearwater is the perfect place to celebrate just about anything. What more can you ask for when you have the beach and the water all around you?
A tour we think you'll love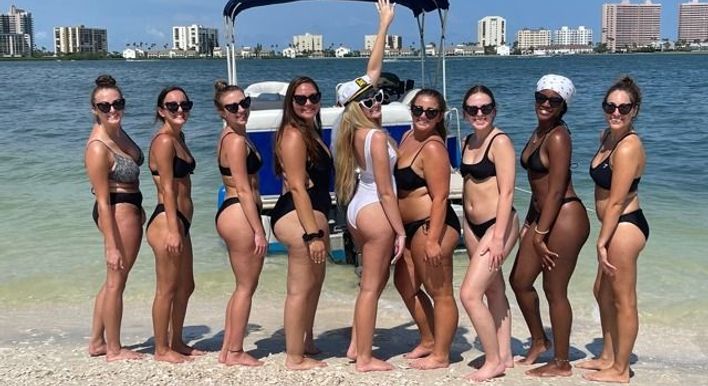 Clearwater Party Boat
From $800
View tour
Consider getting a party boat in Clearwater, if that's the case.
Investing in a party boat in Clearwater, FL may not be your first idea. However, you just need to learn all of the things to do in Clearwater, FL for a bachelorette party—or any occasion, really.
What are you waiting for? Here's what you can do on a party boat in Clearwater.
Can We Get a "Booze Cruise Clearwater"?
More often than not, a party boat means you're going on a booze cruise.
Take a float around the boat with your drink of choice in hand, sipping as you soak in the sun and feel the lap of the waves.
You can make it more of a relaxing party, where everyone has casual conversations and just does things at their own pace. That said, you can also put on some awesome music and dance your hearts out on the boat or within the water.
As always, stay safe, and make sure you have one designated boat driver who isn't drinking. Other than that, let loose and have fun!
Water Sports and Games
Even when you charter a party boat, you can still encourage others to play some water sports and games!
Go for some water volleyball if you're feeling comfortable, or better yet drag your friends on water tubes at quick speeds!
Sometimes, you can even charter a party boat that has its own water slide too. Blast your music and let everyone have fun sliding into the crystal clear waters of Clearwater. This is a great family-friendly option too.
Water sports and games are great ways to keep everyone entertained and on their toes. Who doesn't love a little fun in the sun?
Explore Some Islands
Take your party boat and drive it to some incredible islands in Clearwater. You'll be able to explore biodiversity and also get some lovely views too.
Clearwater Party Boats can take you to several different islands of your choice.
One Tree Island is a sandbar island where you can find shells or even see some sea creatures like urchins. Anclote Preserve is a great place to party no matter the time of year, and so are many of the other islands we can take you to as well.
One great thing about islands is that you can meet new people who are also boating to those destinations. In addition, if you love to collect shells, there are plenty of opportunities for shelling on the island's beaches.
Snorkeling Is Also an Option
Are you an adventurous person, or do you maybe have kids who are always looking to go on an expedition? Consider having snorkeling equipment on your party boat too!
You'll be able to appreciate the incredible, biodiverse sealife of Clearwater. A Clearwater party boat can be both fun and educational.
For the best safety procedures, make sure everyone is learned in how to snorkel.
Go Watch Dolphins Do Their Thing
Who doesn't love going dolphin-watching? With a party boat, you can do this too!
In Clearwater, there are a few places you could go see dolphins. Do your research and communicate with everyone on board the expectations for dolphin-watching.
This is not only an enriching experience but also a beautiful experience to see nature's creatures in action. Dolphin-watching is a memory no one will forget.
Have Plenty of Food and Snacks On Board
It's about the booze, but it's also about the food. For the sake of your fellow party-goers on board, keep your party boat stocked with plenty of food.
You can provide snacks to keep people's energy up (especially if they are swimming and/or drinking, then they'll definitely need it). Think about nuts, chips, candy, and other snacks that people generally enjoy.
You could even provide a meal onboard as well. Meals can be simple sandwiches, salads, or anything else that is easy to transport on a boat.
Also: bring plenty of drinking water too!
Cruise Around with a Clearwater Party Boat
Sometimes it's fun to feel the wind on your face as you cruise around the Clearwater area. On a party boat, you can do that too.
Take in all of the sights with a quick cruise around Clearwater. You can people watch to your heart's content, see some beautiful scenery, and sip your cocktail and daydream a bit.
Kick back and relax as you traverse the Clearwater area with Clearwater boat charters like Clearwater Party Boats.
Finally, Watch That Beautiful Florida Sunset
The perfect end to a Clearwater party boat day is to watch the sun dip below the Gulf's horizon line. Surrounded by your closest friends and family—or maybe surrounded by new friends—you will feel a sense of ease and peace.
Some say Clearwater has some of the most striking sunsets in the world. Take advantage of that by having some form of Clearwater boat charters today.
Get a Party Boat in Clearwater Today
A party boat in Clearwater is the way to go for the ultimate Clearwater getaway. From the fun activities to the beautiful sunset (and of course the endless booze), you will have a great time. And no one does it better than Clearwater Party Boats to boot!
Contact us today so we can get started on booking your party or answer any of your burning questions about chartering a boat.