Throw a Night to Remember: 6 Fun Themes for Boat Parties
A tour we think you'll love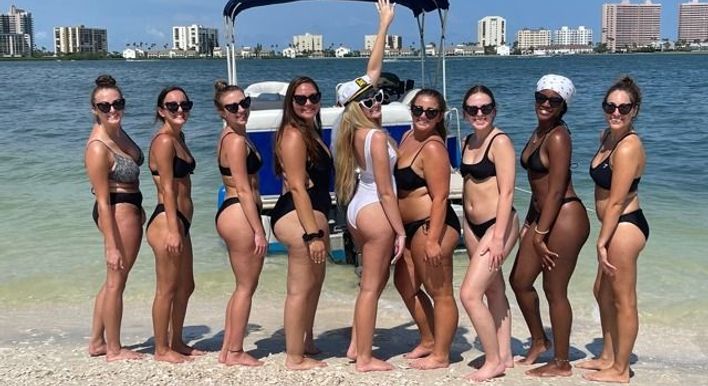 Clearwater Party Boat
From $800
View tour
A great theme can take your boat party from forgettable to legendary. Here are 6 fun themes for boat parties that are sure to impress.
Keyword(s): themes for boat parties
Renting a boat to gather your friends and loved ones in one place is a memory-making opportunity.
If you really want to really take the experience up a notch, why not throw a boat theme party? Your guests can get involved in the planning, and the celebratory mood increases.
Wondering how to throw a boat party with a theme? You might have seen the parties where everyone wears the same color. But you can take it up a notch with one of these six themes for boat parties.
Read on to learn more about the six best themes for a boat party.
1. Casino Night
A great idea for a party on a boat is to have a casino-themed party. You can ask everyone to dress in their casino finest. Decorate the boat with hanging dice and card garland.
Depending on the size of your boat, you could have a poker table and a blackjack table. You could even rent a roulette wheel so your friends can play the odds.
2. Pirate Party
What's the secret passcode to enter the boat's pirate party? "ARG!"
You can skip the plank walking at your pirate party and instead ask your guests to come dressed in pirate finery. Be sure to give each boat guest a black patch to cover their pirate eye upon arrival.
Make up a batch of pirate punch for the grown-ups, and you'll have a pirate party for the ages.
3. Mardi Gras
Nothing says let's have a party on a boat like Mardi Gras. Plan your Mardi Gras colors of green, gold, and vibrant purple for some boat decor.
Ask your guests to come dressed in masquerade for the party and greet them with a stack of Mardi Gras beads for the celebration.
Don't forget to bring your Mardi Gras Kings cake for part of the celebration.
4. '70s or '80s Vintage Night
No boat party themes list would be complete without the 70s or 80s night. Think big hair and bright colors. Think Love Boat and bell bottoms.
The party attendees will have great fun walking down memory lane dressed for a different decade. They can dig to the back of their closet (or their parent's closet) for the best vintage attire.
Make a playlist of the best tunes from your decade.
5. Hawaiian Luau
Break out the bikinis, grass skirts, and leis. You can even greet your guests as they enter the boat with their lei and fruity pineapple cocktail.
Add some good Hawaiian music, and your party is set.
6. Fiesta
A fiesta is always a party idea hit. Who wouldn't love a day or evening out on the water celebrating with a fiesta? Break out the salsa, chips, and guacamole.
Plan some bright-colored banners and attire. Bring your best pitcher of margaritas, and it's a party on the water.
Try One of These Themes for Boat Parties
Your boat party planning doesn't have to be hard. Your guests will be so excited to be out on the water; choose any of these themes for boat parties, and they will surely be successful.
If you're ready to start planning your Florida boat party, we're ready to help you throw it. Contact us today to start planning your fun-themed boat party.