Watching the reds, oranges, and yellows of the sky as the sun sets over a body of water is a spectacular sight.
Do you know what elevates the amazing sight of a sunset even more?
A tour we think you'll love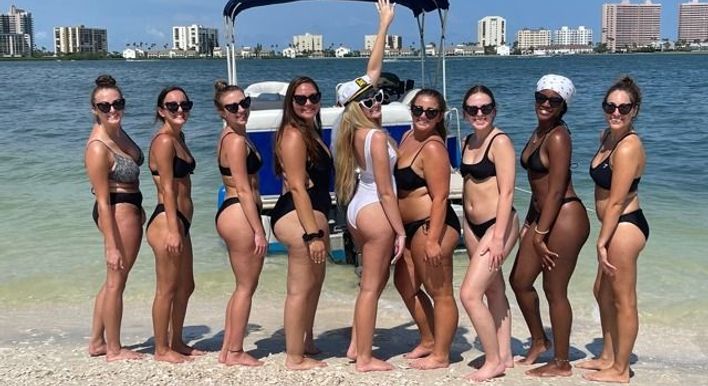 Clearwater Party Boat
From $800
View tour
A sunset cruise!
Sunset cruises offer a fun and satisfying experience of being on a boat during the intriguing and dramatic sunset hours.
But what exactly are sunset cruises? Read on to find out all you need to know about taking a cruise at sunset and if it's right for you!
Why Take a Sunset Cruise?
Taking a cruise at sunset is the perfect way to see the take in the bold colors, see the view of the shore from the water and make some fantastic memories. Here are some reasons you should definitely take a sunset cruise.
Positive Vibes
Sunset cruises are all about positive energy—laughter, smiles, relaxation, and entertainment. It's virtually impossible to experience a sunset cruise and leave feeling anything less than completely satisfied. You might feel a little sad, but it's only when the cruise is over!
Great Vacation Experience
Taking a cruise at sunset is one of the great opportunities of being on vacation. It's a great way to see the nearby coastline from the water and learn more about the place you are visiting.
For an extra special outing, book a cruise at sunset on the day you arrive or the day you depart—the memories are guaranteed to be extraordinary!
Celebrate Events
What better way is there to celebrate a special event or occasion that to plan a cruise at sunset? Being on the water, taking in the scenery, and watching the sky's vibrant colors is a great way to emphasize the festive feel of the day!
For Inspiration
A boat cruise, especially a sunset cruise, is a great moment to reflect on life. It makes you feel positive, grateful and inspired, and open to all the other wonderful experiences life has to offer.
What Occasions Can You Celebrate on Sunset Cruises?
There is no limit to the reasons to take a sunset cruise. Here are some of the occasions, events, and special days you can celebrate with a sunset cruise.
Date Night
Of all the romantic date ideas, taking your beloved on an enchanting sunset cruise will win every time! To be on the water is a great way to spend an evening date, and pair that with the ultimate romantic sunset, and it's guaranteed to be a date you'll remember forever. Want to pop the question—consider a sunset cruise.
Bachelor or Bachelorette Parties
Sunset cruises mark the end of the day and the beginning of party time! It's the perfect way to turn up the volume on the fun and camaraderie of a bachelor or bachelorette party. It's a party that should revolve around fun, laughter, and making special life-long memories. Taking a sunset party cruise is the perfect solution!
Birthdays
Trying to find an experience that will add some pizazz to a loved one's birthday celebration? Look no further than a sunset cruise. The magical orange and red-tinged sky is the perfect backdrop for a magical and unforgettable birthday.
Retirement
What better way to celebrate your retirement than to book a cruise that will take you off into the sunset! It's a great way to say goodbye to one phase of your life and onto the next.
Work Celebrations
Maybe you got a big promotion, saying goodbye to a colleague, or need to do something fun to celebrate the completion of a big, successful project. When nothing short of extraordinary will do, a sunset cruise is the answer!
Romantic Dinner for Two
Having dinner on a cruise while watching the sun set below the horizon is nothing short of magical. It's the perfect place for a combination of great food, good company, and one of nature's greatest shows.
Nature Exploration
The gulf waters are full of vibrant marine life and the dusk hours are the perfect time to see them in action. Watch the dolphins play alongside the boat or the flying fish taking their last jumps before the sun fully sets.
Many Other Occasions
There is nothing that can't be celebrated on a sunset cruise. A cruise on the water with a sky a blaze of red, yellow, and orange—it's the perfect backdrop for many special occasions such as:
A family bonding experience
Valentine's Day
Mother's Day/Father's Day
Anniversaries
Fourth of July
New Year's Eve
Job milestones
Graduation
A special travel adventure
Why Take a Sunset Cruise in Clearwater?
Taking a sunset cruise can be a relaxing, romantic experience, but it can also be a rollicking good time! Here are some of the best reasons to consider taking a sunset cruise in beautiful Clearwater, Florida.
The Views From the Water
Being on a cruise means taking in the stunning beauty of the Clearwater coastline from the water. We know that hanging on the beautiful beaches of Clearwater is great fun, but you will be impressed to see the shoreline from a boat. Watch the waves glisten and sea life dance as the sun sets on the horizon.
Reconnect or Make Connections
Want to reconnect with family and friends? Or maybe make a new connection with a romantic interest? Whatever the case, being on the water together is a great way to relax and appreciate the moment with loved ones.
Amazing Photo Ops
Whether you are taking photos of the sunset, the shoreline, or your family and friends, photos taken during a sunset cruise are epic. Just being on a boat, along with the colors of the sky, you are guaranteed to take some very impressive share-worthy pics!.
Make Lasting Memories
Without a doubt, being on a sunset cruise in Clearwater is a way to make memories that last a lifetime. Magic happens when out on the water, and it's the perfect place to make lasting memories. You might even start planning the next one before you even disembark!
Sunset Cruise Takeaways
Taking in a magical sunset while enjoying the amazing experience of being on the water, is a memory you won't soon forget. For special events and occasions, holidays, or vacation fun, book a sunset cruise—you won't regret it!
Clearwater Party Boats offers the best in sunset cruises, boat tours, and water activities in the Clearwater area. Contact us to book your next cruise, and let us help you create the best memories with your loved ones!